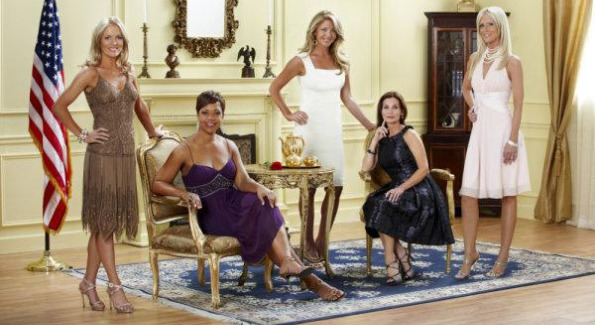 I have been waiting for the arrival of The Real Housewives of DC every since the crashing of the White House state dinner. I mean, seriously, the other Housewives have had drama, but so far this is first show to cause an incident where the Secret Service got involved. I thought I would watch last night's episode and get reeled in enough to keep watching. However, I didn't know I would get hooked from the first episode! So here's my opinions so far:
Mary:
I can't say I have a favorite yet, but I think odds are my favorite DC housewife will be Mary. She's equal parts socialite and super mom, and manages to look fabulous doing it all. She had some funny moments last night, including getting drunk at her own birthday and going on to Stacie about integrating salons! She should be fun to watch.

Stacie:
Stacie seems cool, but I didn't get a good read on her role in the show. I like Stacie so far, but I don't know if that will last.
Cat:
Cat, the newcomer to DC, did not come across very well her first episode. He acted snooty at the polo tournament, and bashed Obama (also her husband's boss) to a room of black people. Also, some of her stories didn't quite add up: her husband is supposed to be close to her husband, yet he didn't RSVP to her wedding? Also, why was she so insistent about her opinion about Tyra Banks to a man who had worked for her? So far, I don't like Cat.
Lynda:
Like Stacie, I am on the fence about Lynda. On the one hand, I can appreciate her love for large black men (like Lisa Lampanelli!) and she did have the funniest line of the show: "I wouldn't show my face at that goat rodeo!" On the other hand, she acted a little snooty in places and seemed overly insistent about another housewife's eating disorder. Which brings me to:
Michaele:
I think many people who watched the show last night where curious just to see the antics of Michaele Salahi AKA the woman who crashed a White House state dinner. The rumor is she did it simply to ensure her spot on the show. Just when I thought Bravo had served up crazy in all forms, Michaele seems to be a whole new form of it! Not only was she hugging everyone who came in contact with her, she told more than one person "I love you," including her stylist. In a preview clip, she laments at the White House dinner that she can't hug the president. She's very adamant about not having an eating disorder, despite never really saying what she does eat. The weird thing is I usually cringe while watching the crazies, but I actually like Michaele.
We'll see how the season goes! Should be juicy!